My darling sister gave me a gift card for Williams-Sonoma. That girl knows the way to *my* heart! So I went on a little shopping spree (a very little spree...$50 only goes so far at this store).
One of the things I splurged on was a new zester. I have the Oxo zester and have used it to zest lemons and limes, but found it pretty tedious and didn't look forward to using it. On a whim, I picked up a
Microplane Grater/Zester
while spending my gift card, and had a chance to use it before the holiday of
Sukkos
.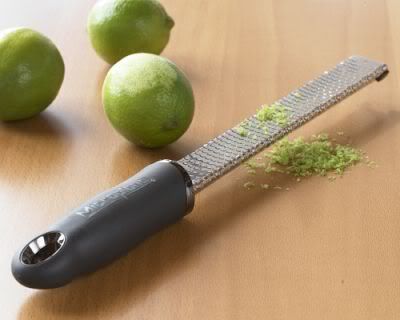 Wow! It was quite a difference. The zest came off that orange with a minimum of effort. I was actually having
fun
getting the peel off the orange, and can't wait to use this tool again.
One thing I particularly like is that the zester comes with a cover that the tool slides in and out of easily. This tool is *sharp*, so you'll be glad that the grating surface is covered when you're rooting around in your kitchen drawer for some other tool.
So, if anyone out there would like my old Oxo zester, let me know! It's up for grabs. My new Microplane is the only tool I want to use now.
Rating for the
Microplane Grater/Zester
: 5 stars out of 5.
Oh, and what was I making that required orange zest? I was baking the
Chocolate-Orange Carrot Cake
, which I originally saw in
Bon Appetit
magazine in 1998. The list of ingredients is odd (chocolate AND grated carrots AND sweetened shredded coconut), but the cake is
delicious
. Try it! This is a very special cake, which is very rich.
Unfortunately, my cake burned a little this time. Oh well. It was still good. Especially with the dark chocolate frosting on top ;). Mmmmmmmmm.